Alright, so last night Don decided to move around stuff to find a place for the deep freeze we just bought and it caused all sorts chaos. One thing moved lead to another thing moved which lead to my whole scrap area being changed. So today I worked and worked to get things back to normal, arranged, a good flow....and I like it. I do, I do!
There are a LOT of pictures, because I was so excited. So bear with me!
Okay, about half way thru trying to put all these pictures in groups/order I gave up. I'm tired and overwhelmed by the amount of pictures (who's fault is that?). So enjoy the pictures of my basement area, which I have decided to call the Oasis. You'll also see my three helpers in there, Basil, Pesto & Garlic.
I got this at a garage sale for a quarter!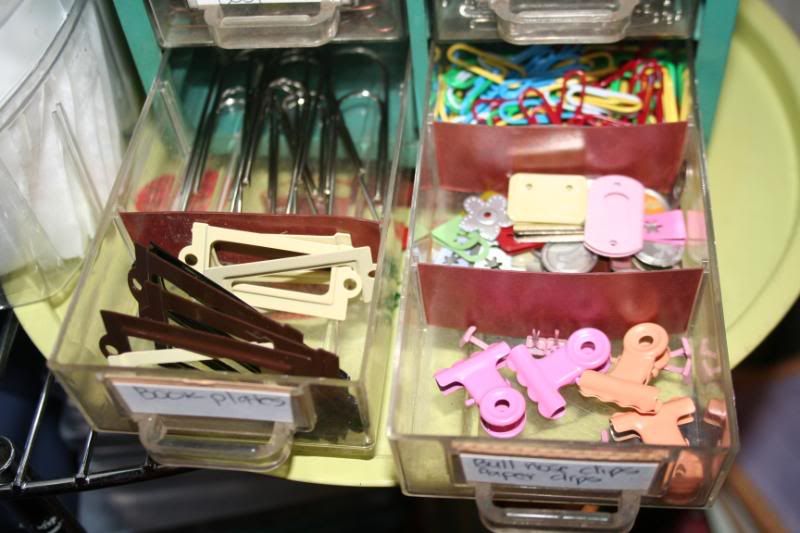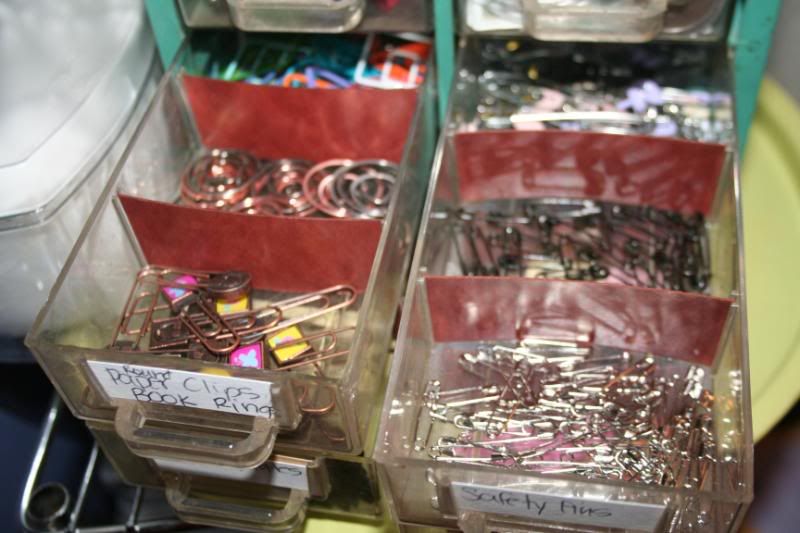 Albums ready to be filled!
My scraps box. The little wooden box holds cds, index cards, coasters..things for mini albums!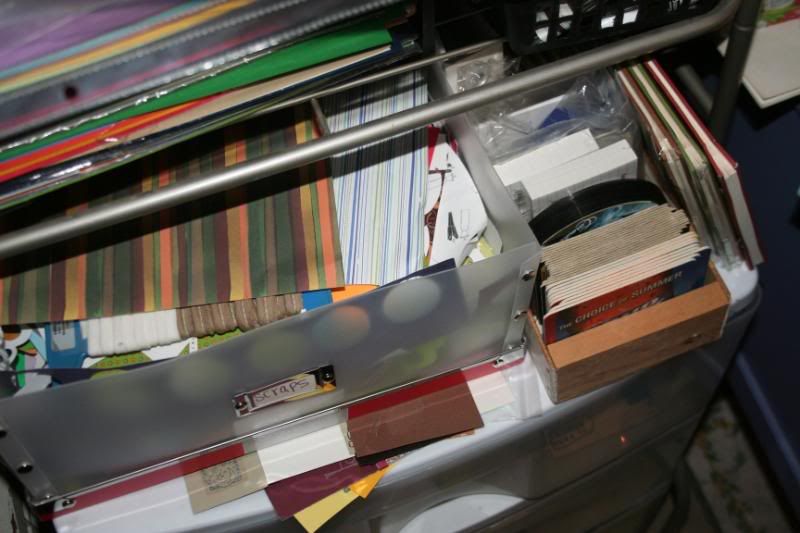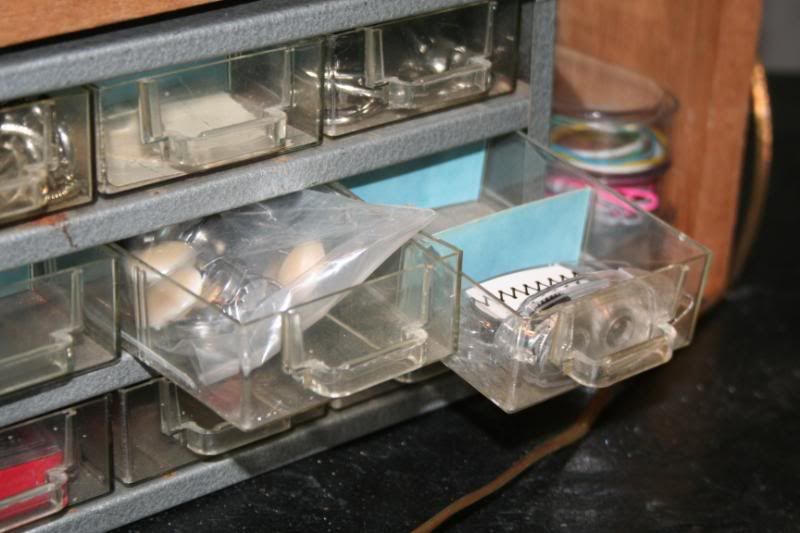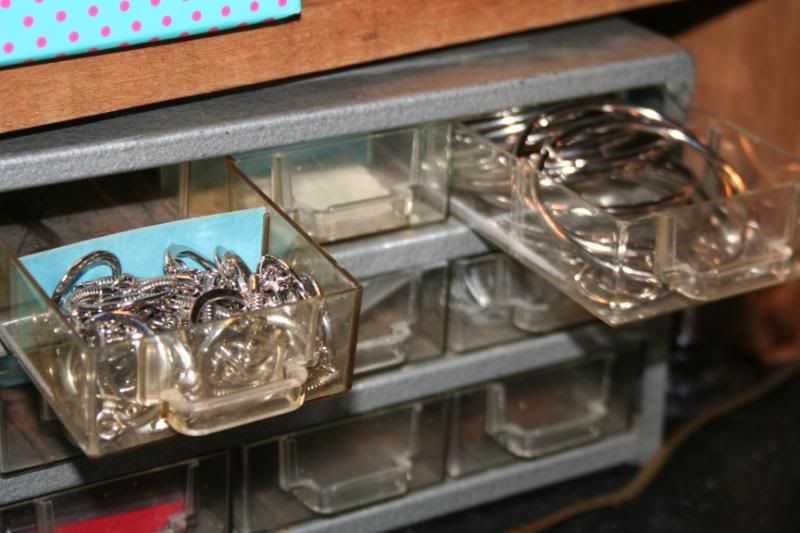 My Stampin' Up inks. I need more!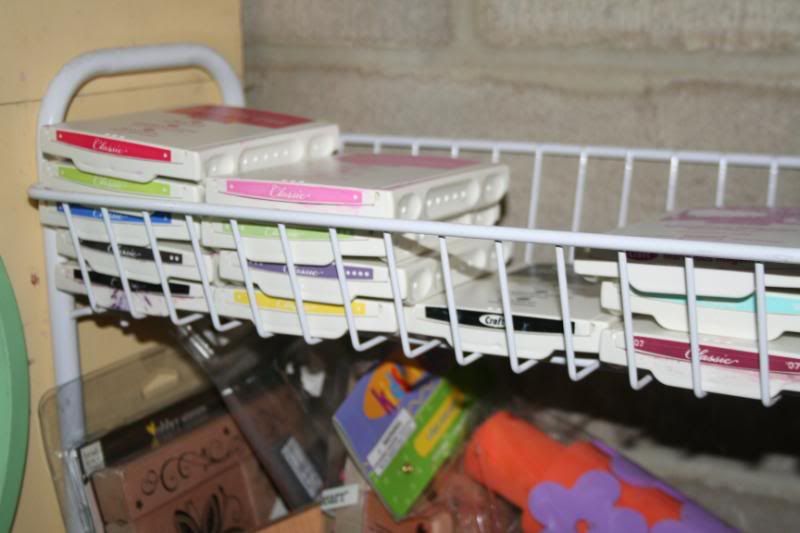 See how pretty that is? I have them all divided by types. And the top magazine holder (garage sale 10 cents!!!) holds all my acrylics until I find a genius way to store them.
Random stamps.
Inks.
Got this sweet little tray free from a store...see drawers below. Same place that I also got my SU stamp holder from.
Alterables.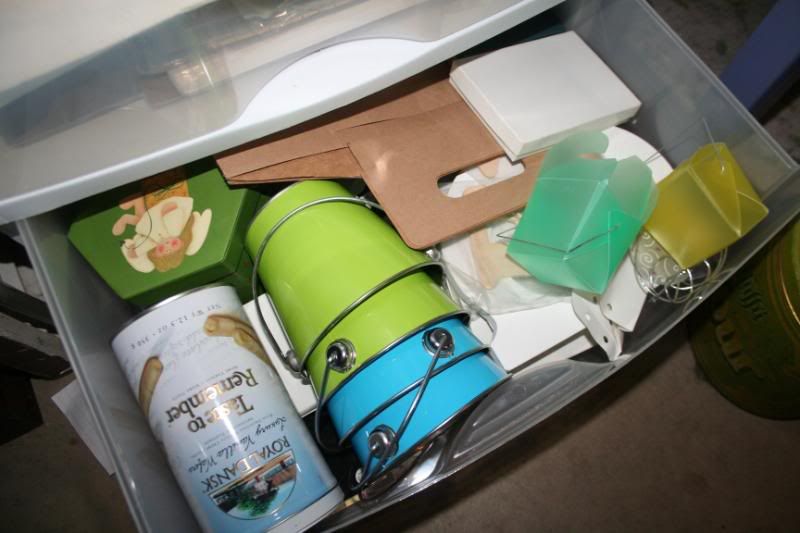 Albums to be used.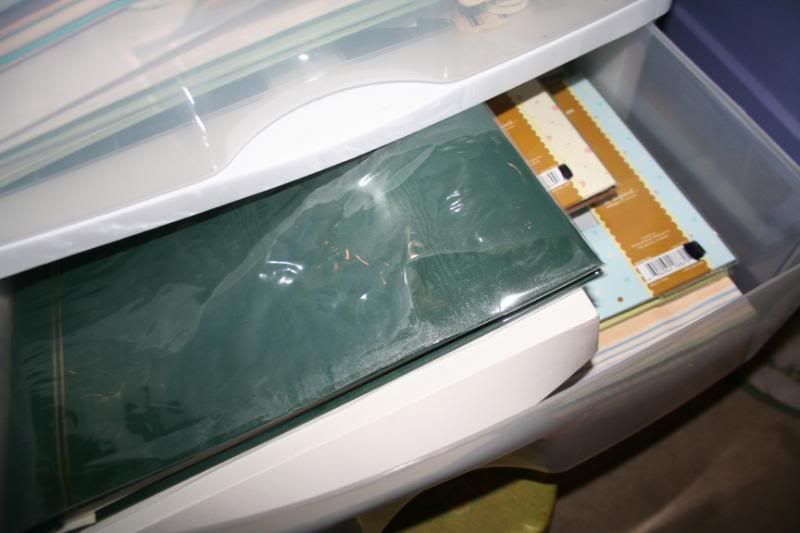 I got all these free at a shop that was getting rid of them. Oh yes, I took them all. Don is going to put shelves on the shelves so I can slide these in and out since it is SUCH a pain to have them stacked. I usually just give up.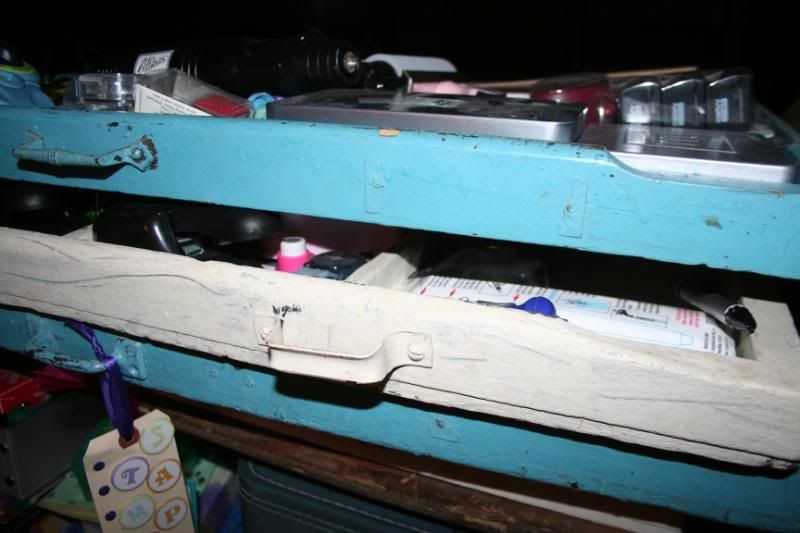 Tools...punches, setters, cutting boards.
Embellishments...metal words, some brads, clips, etc.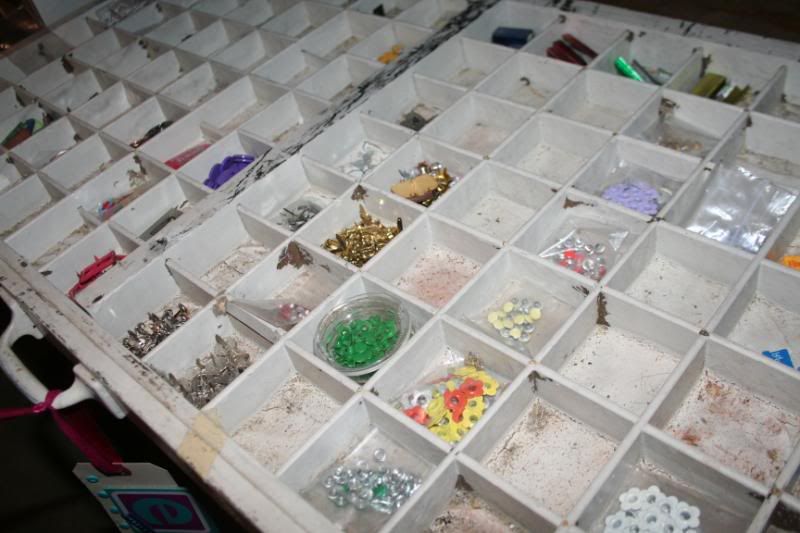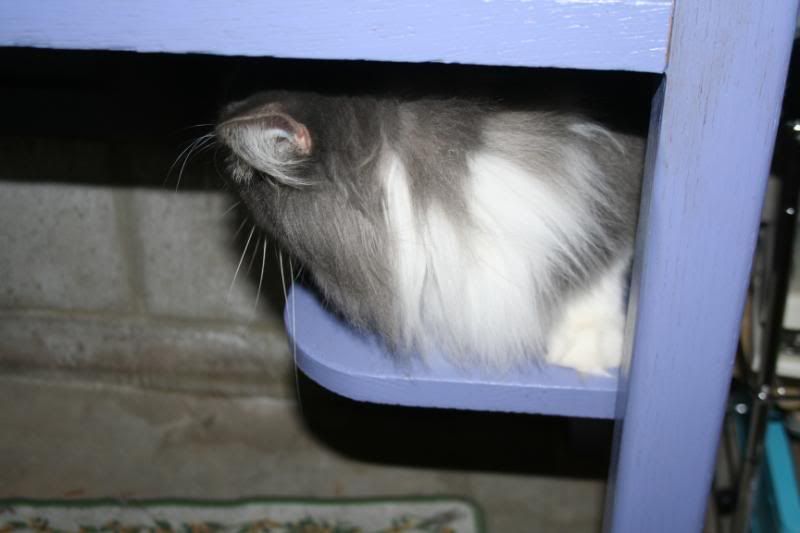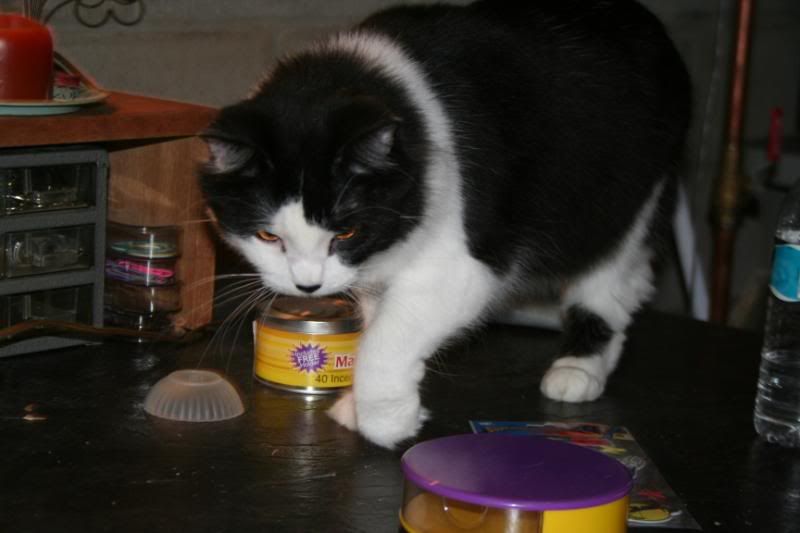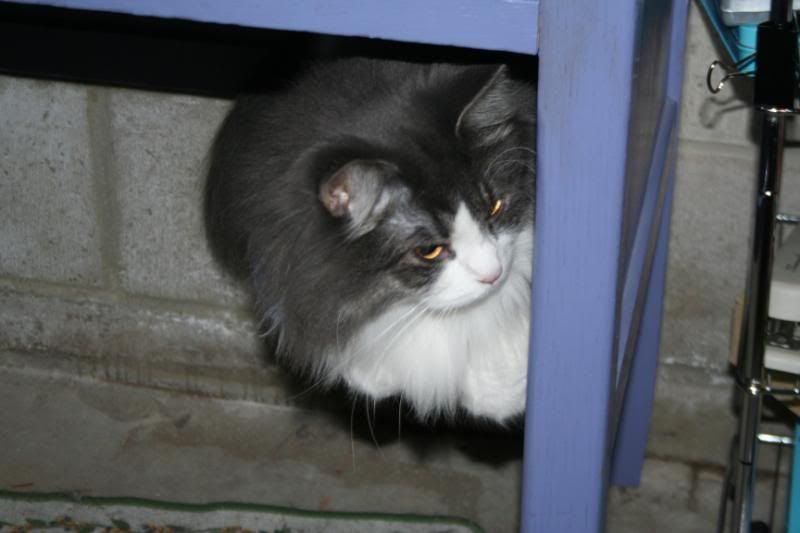 Hello Garlic!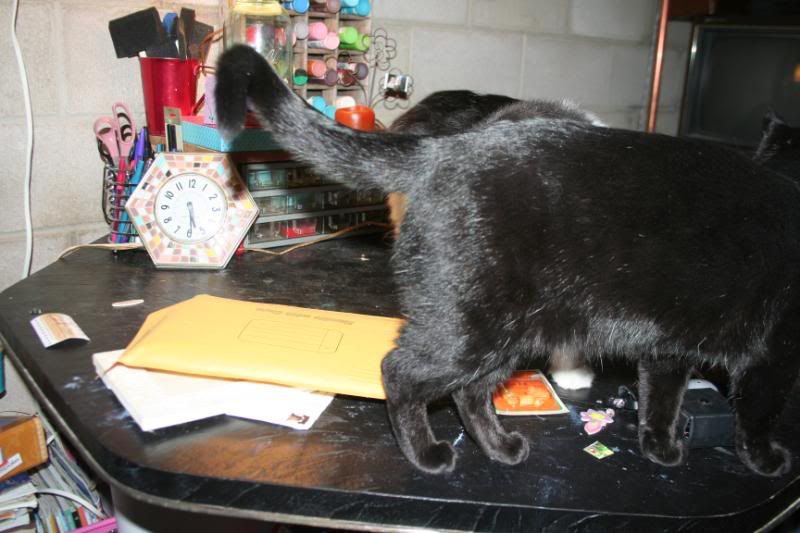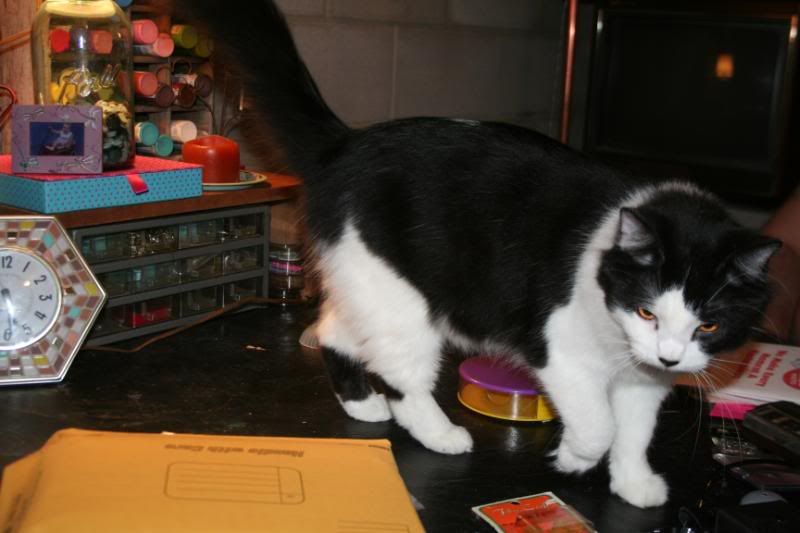 Don tossed me a button he found, and Basil was interested....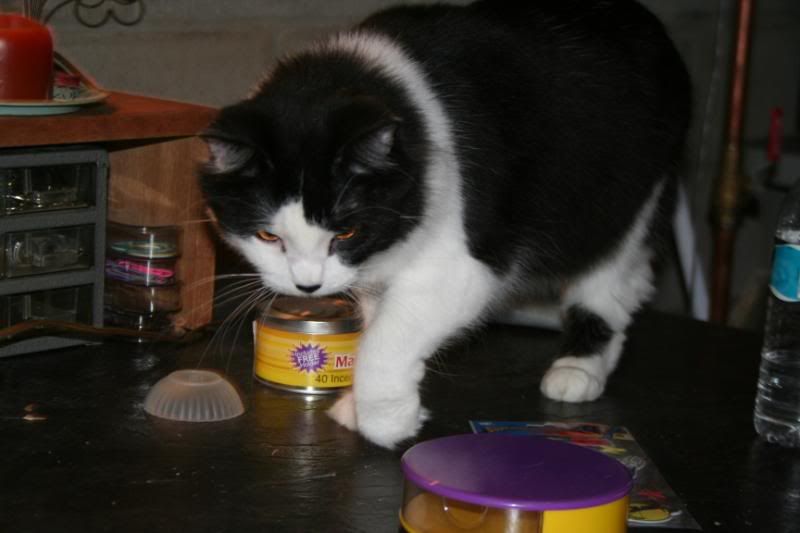 She wants to play with that button so bad.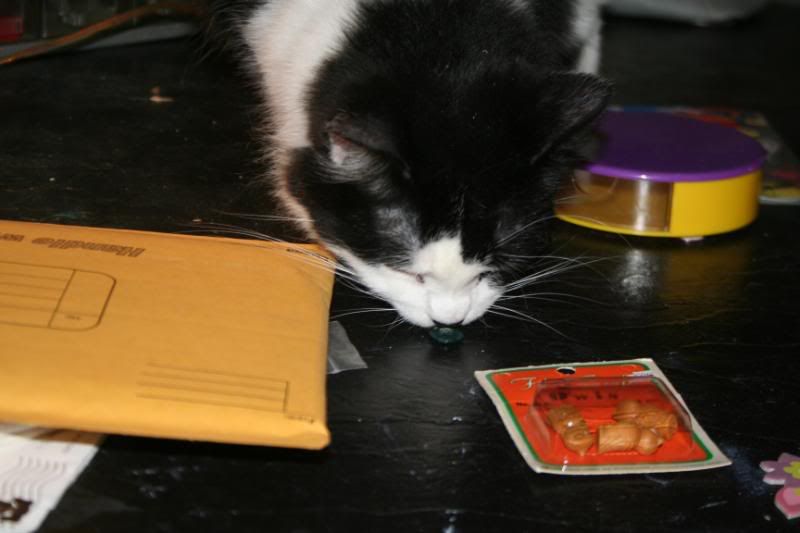 Stack of cardstock that still needs a home.
Far right (green thing) I have all my paper packs, stacks, etc in it. Then the blue and purples have random papers in it that I haven't found homes for yet. Then in the Cropper Hopper things I have one for special papers (metallic, mulberry, velum, etc), one for characters, one for Stampin' Up, then the big one is divided into the favorite designers single sheets (Basic Grey, Heidi Swap, 3 Bugs in a Rug,etc).
Adhesives!
I LOVE THIS! I truly do. I need to get more pics and whatnot to put in the photo holders. I got the bottle tray for a buck I think?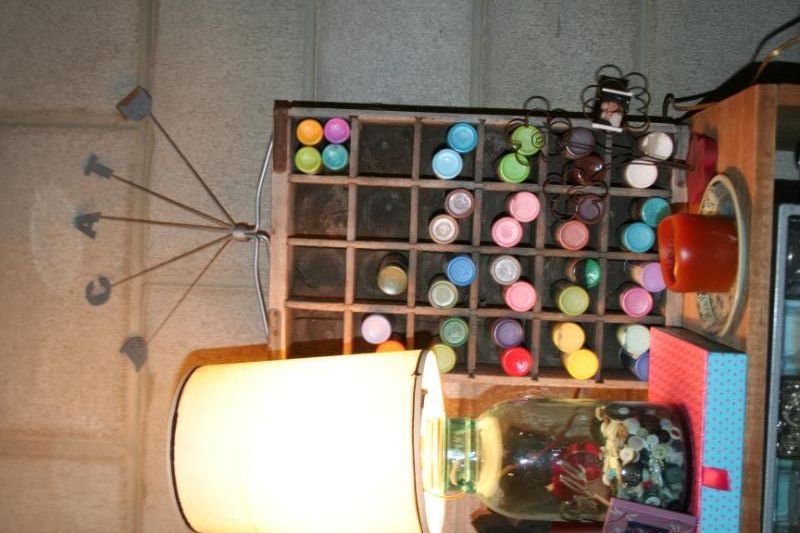 So halfway thru the cleaning and picture taking, Don came down and made S hooks for me. So I now hang my LOs in prorgress on there!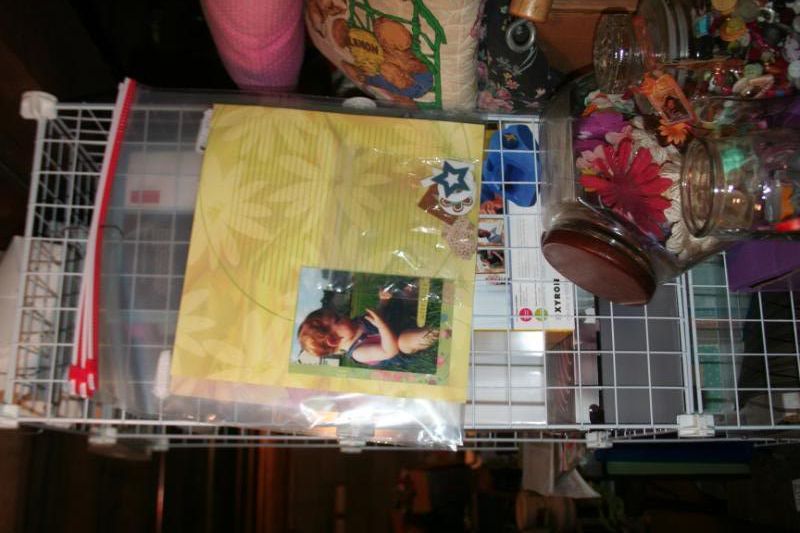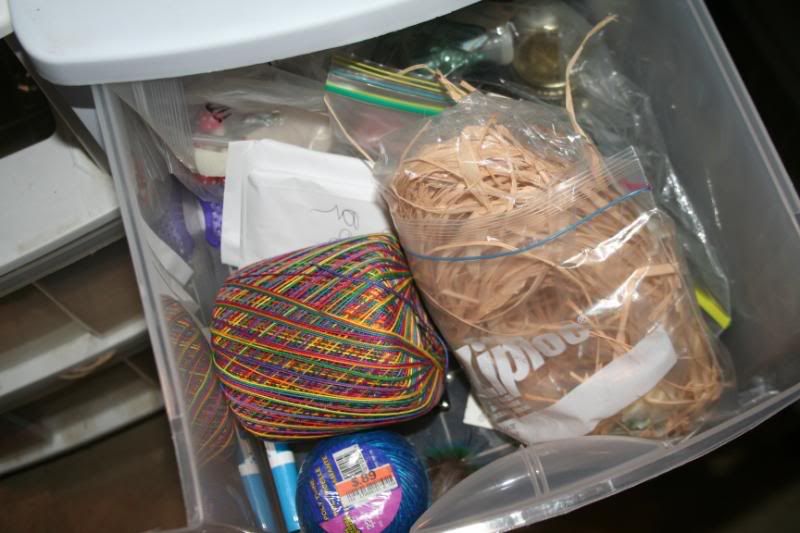 Random embellishments and other things that found their way into the drawer.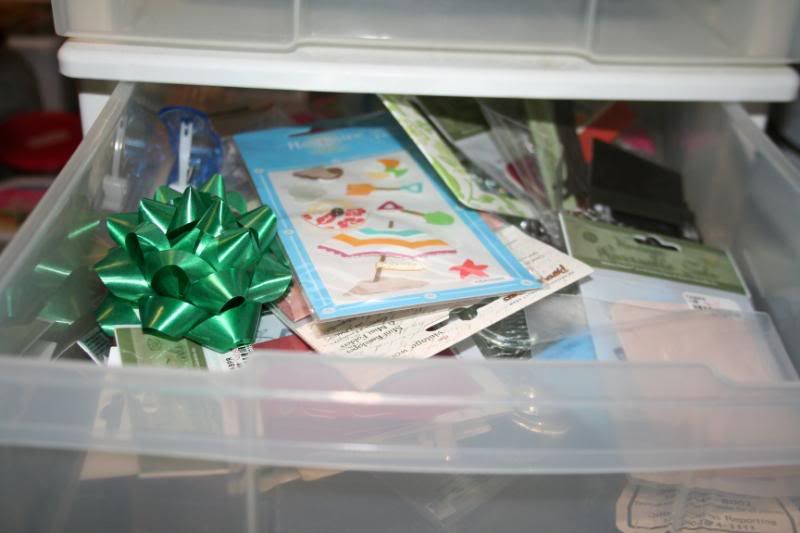 More things to alter.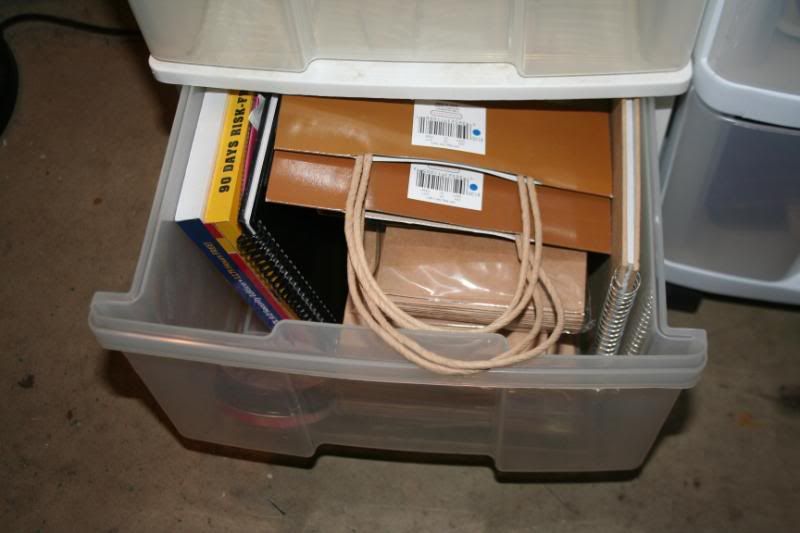 Of all the felt I ever felt I never felt felt that felt like that felt felt.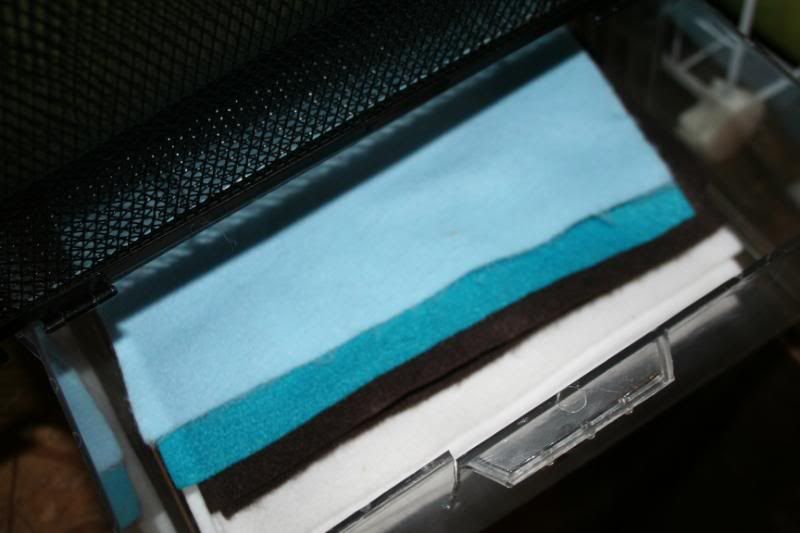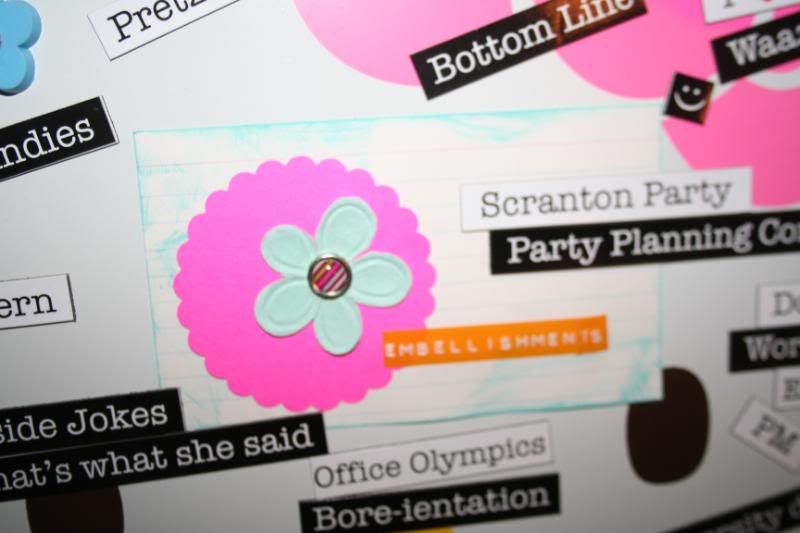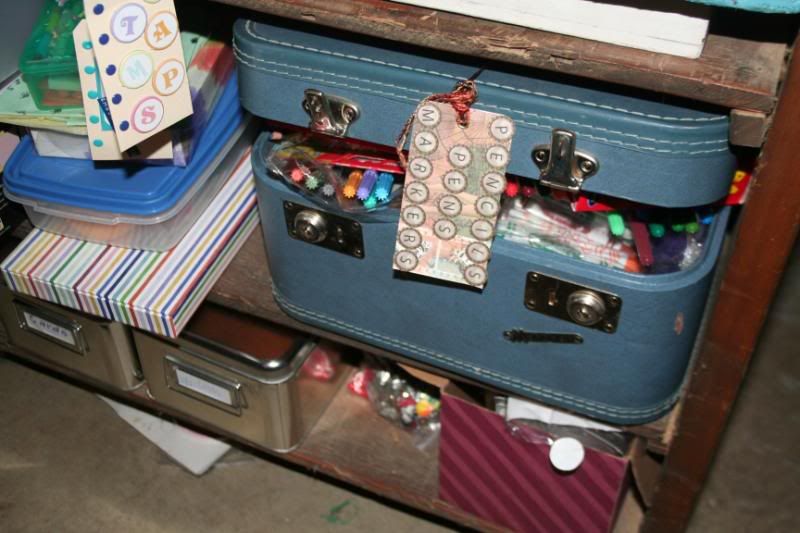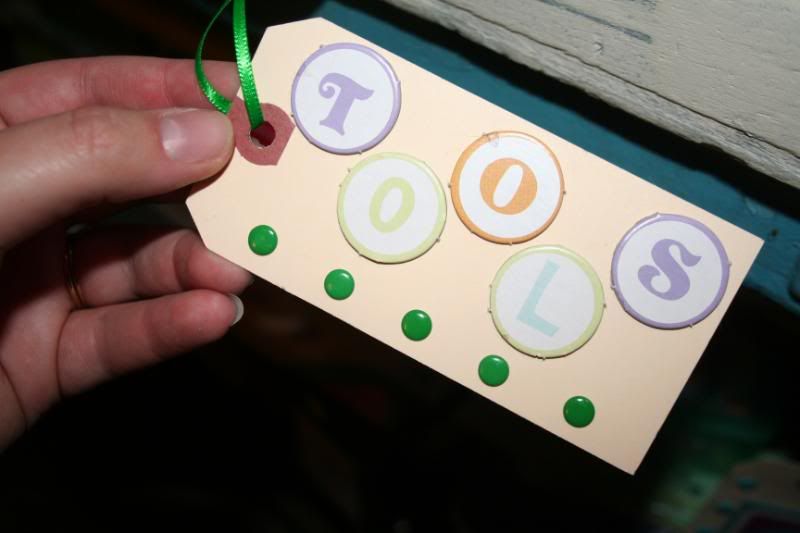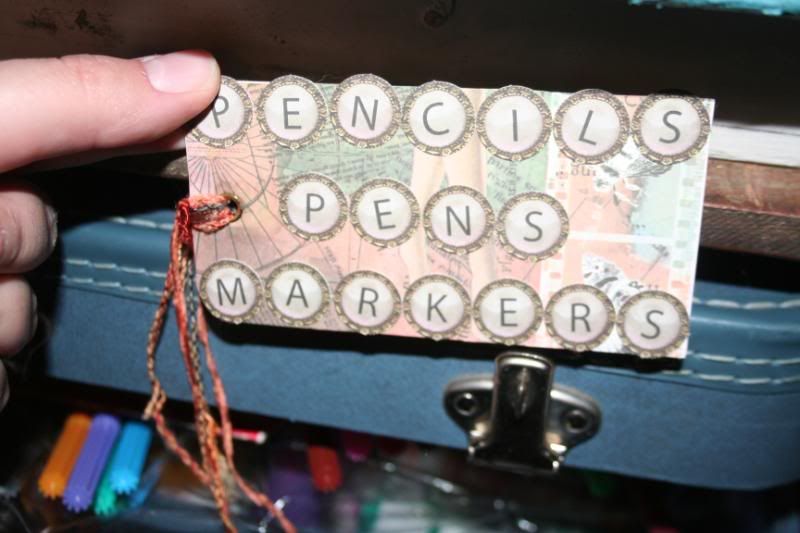 Made this awesome lunchbox at my Stampin' Up uplines Stamp n' Share she has for us monthly. I love it! And I love the papers I picked!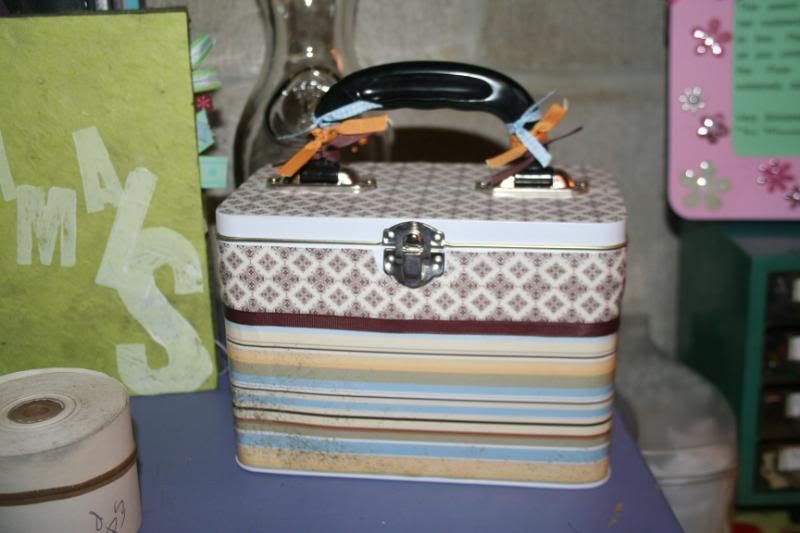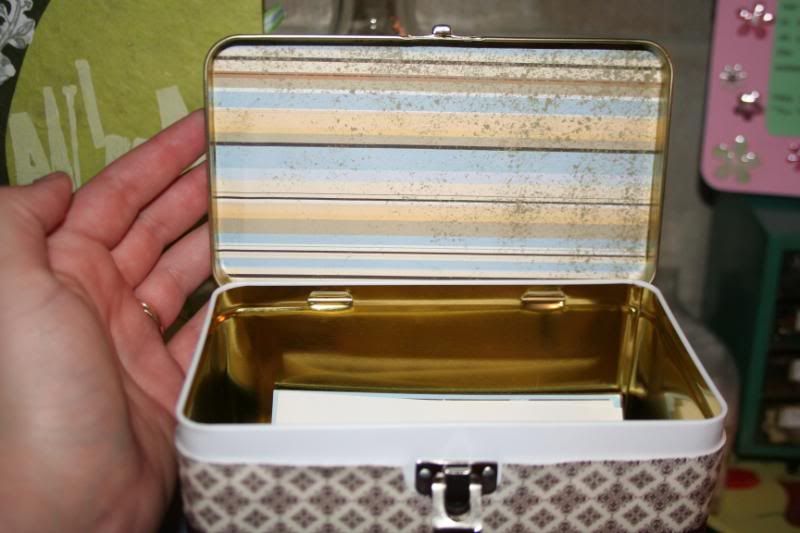 Pesto loves sitting here. I told him that I will never put anything on that shelf, it's his special spot. And yes, I talk to my cats.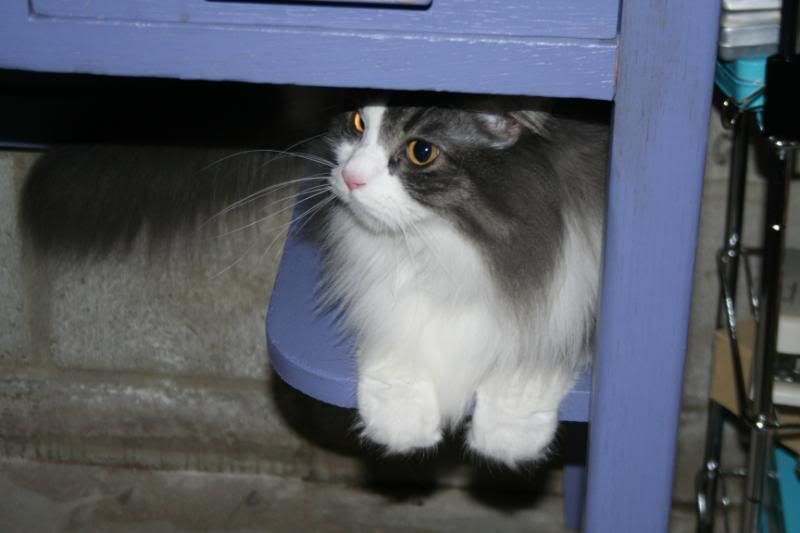 Got this at a garage sale for $2.00 this summer full of screws and washers and other things I gave to Don, but I got the container!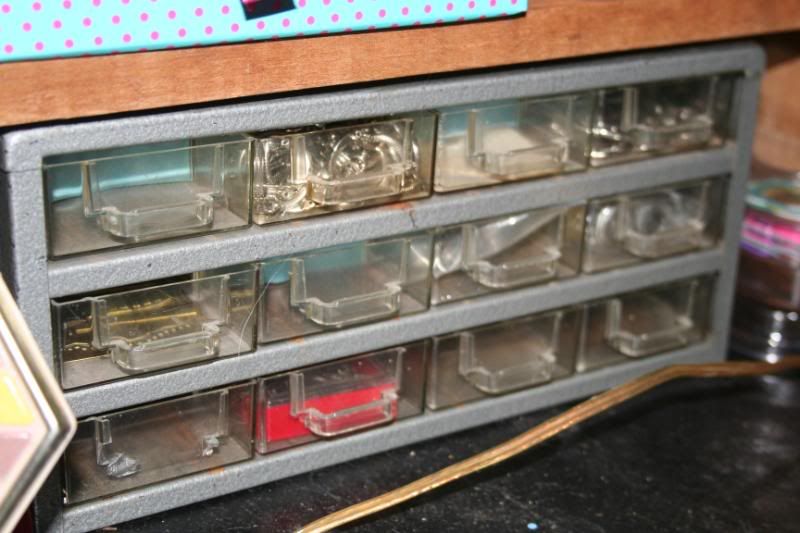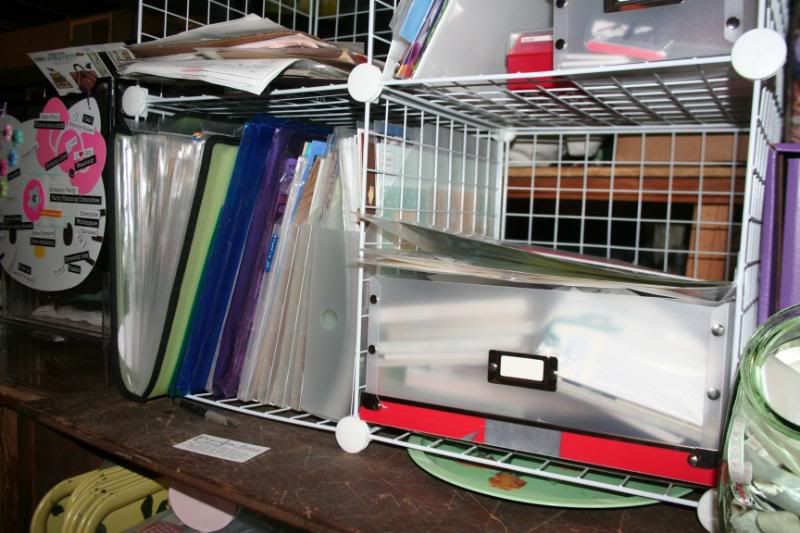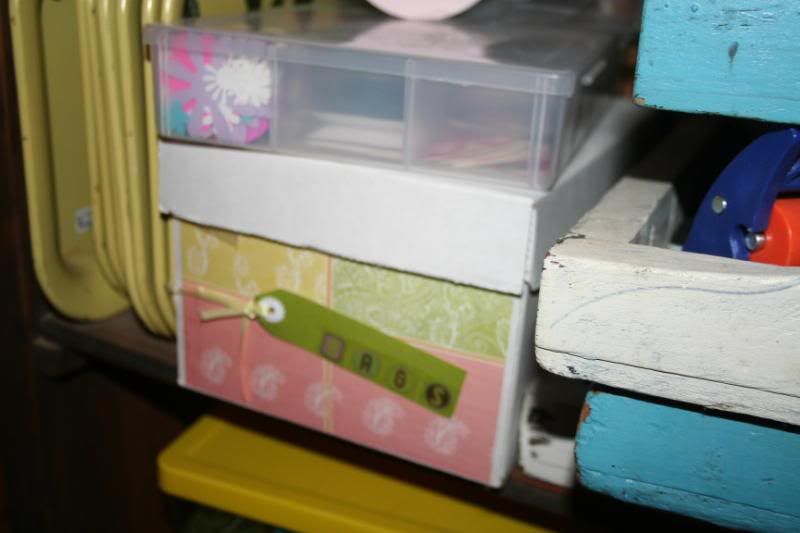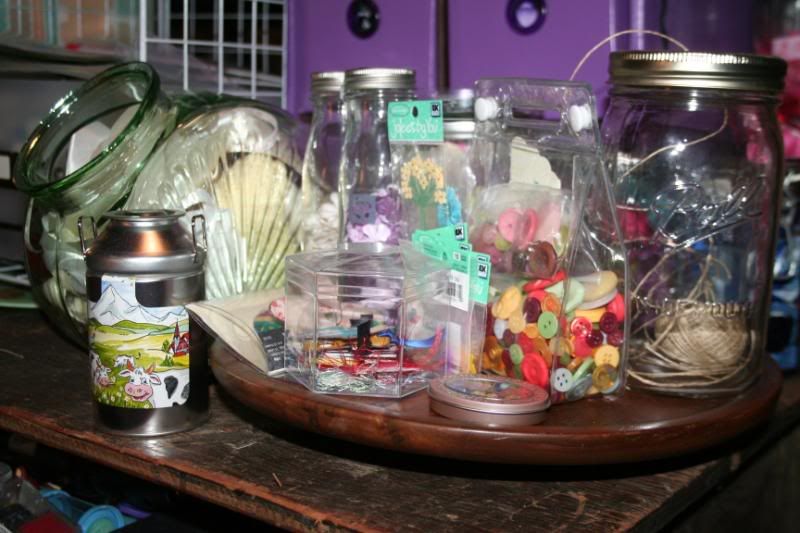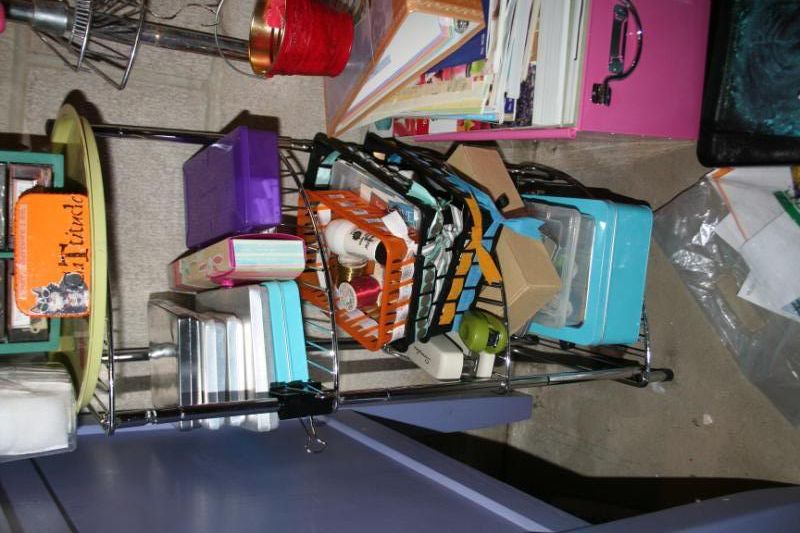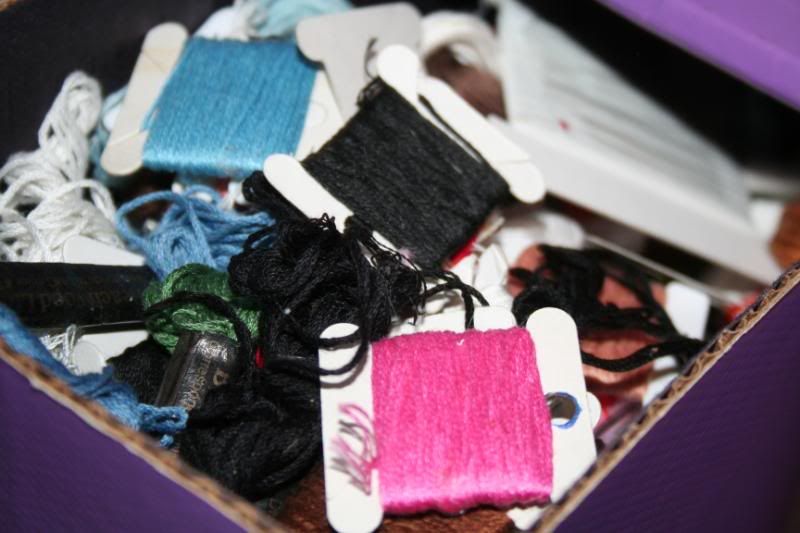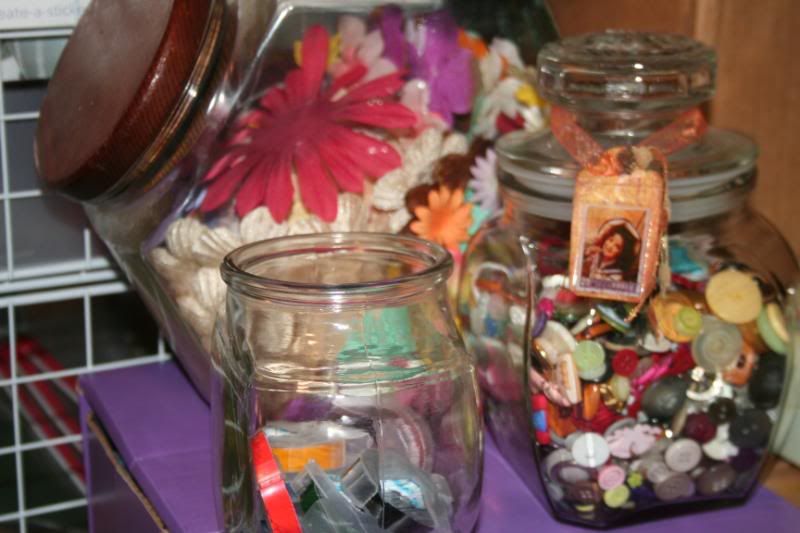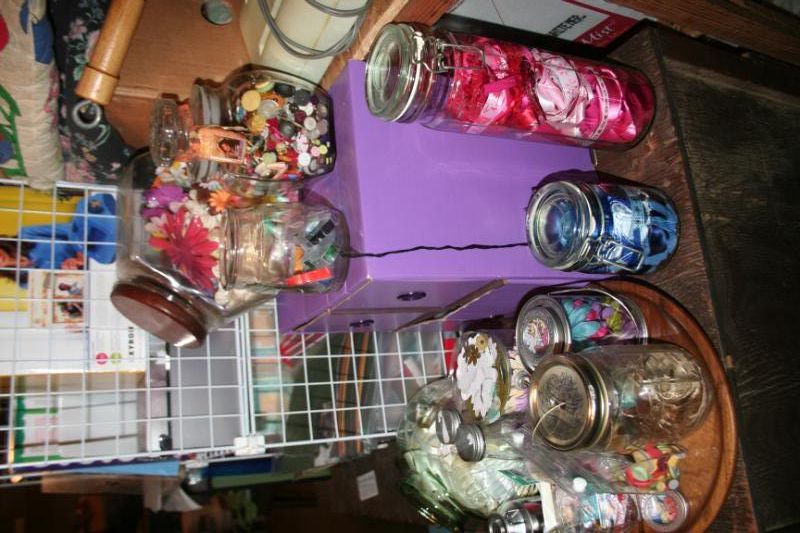 Alterables....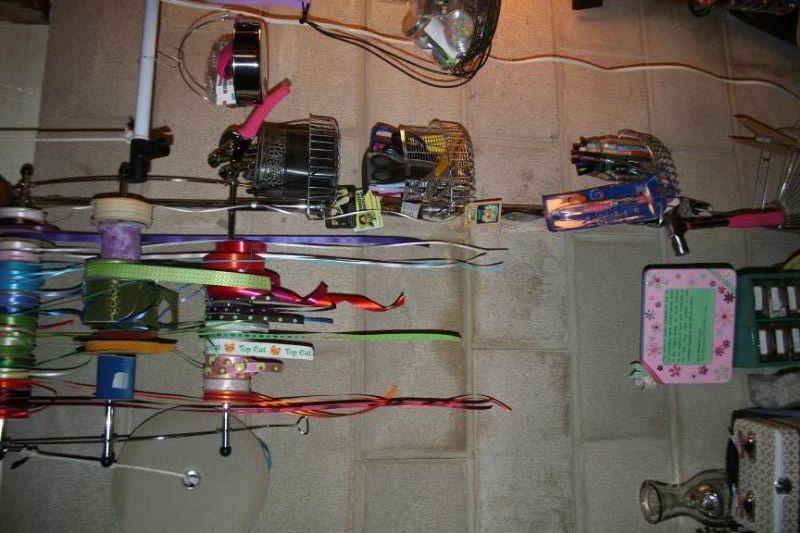 A few views of the same rack. Got it free from Weeds & Reeds when they decided that they didn't want a bunch of stuff anymore. This is ONLY for my SU! sets so I can keep them all separate. My other stamps are straight across from it.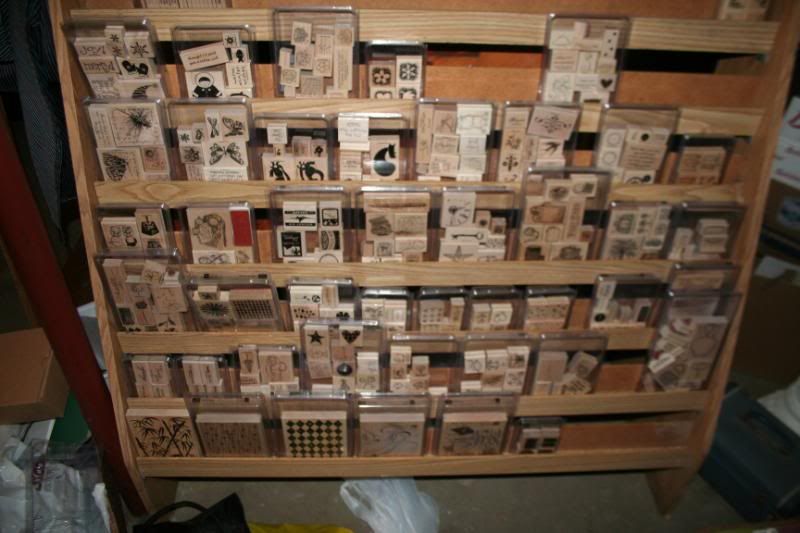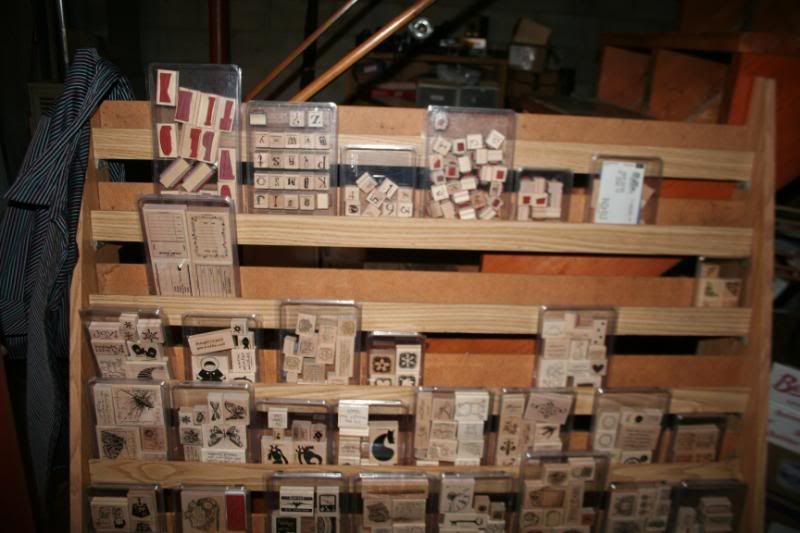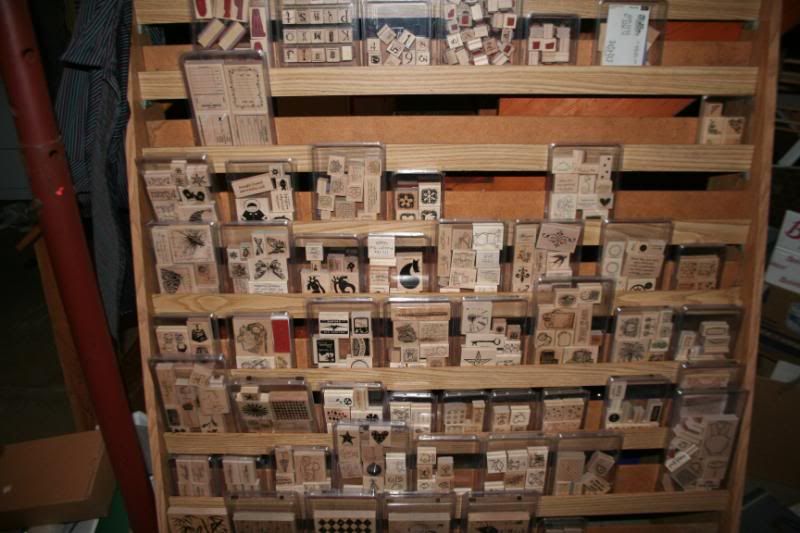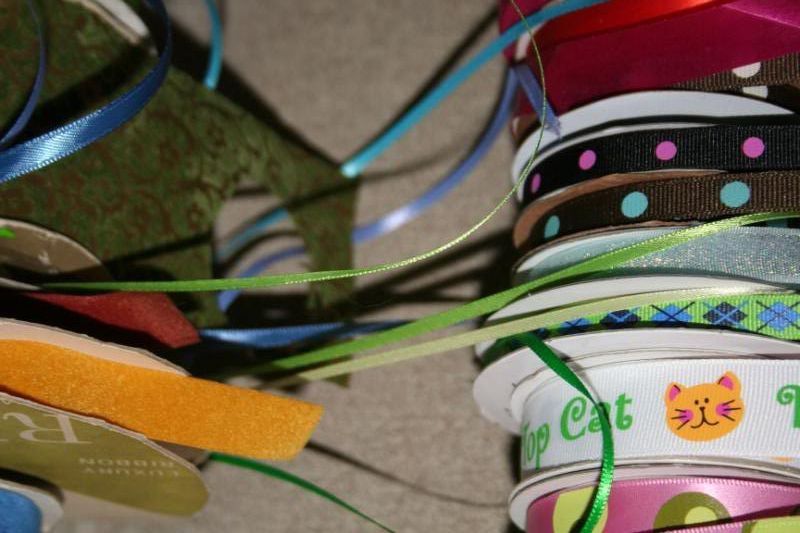 More ribbon that needs to be hung...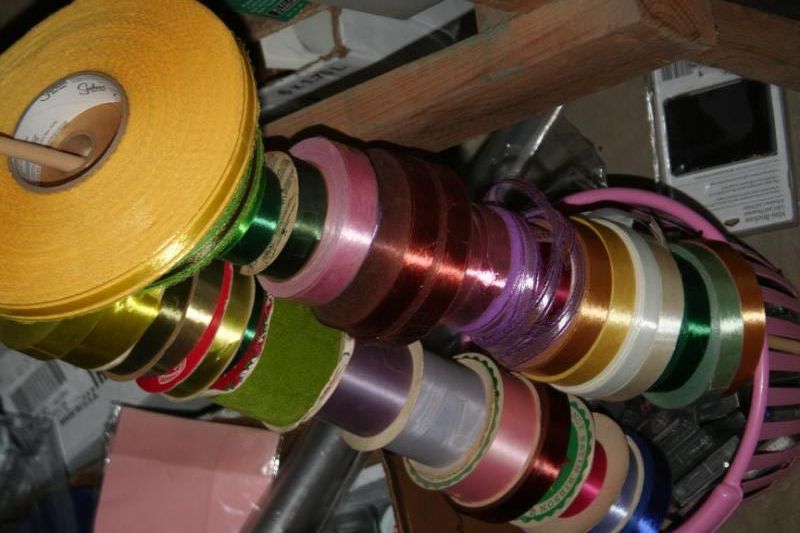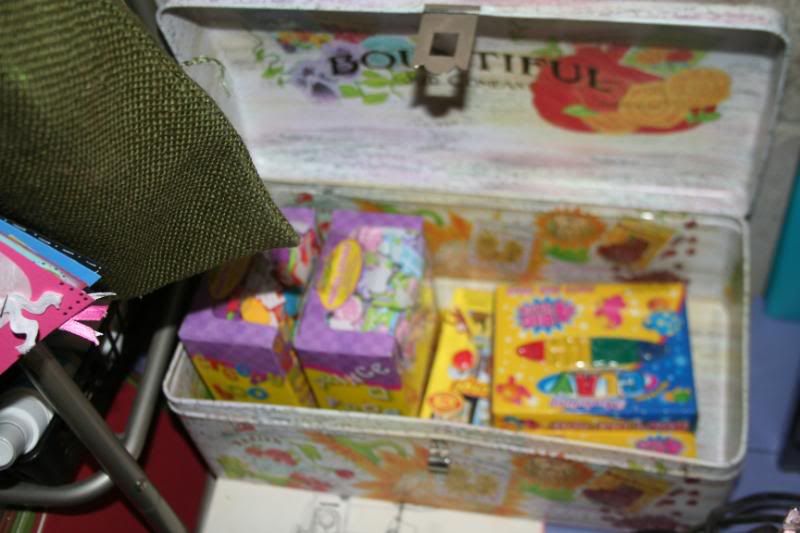 The tin, and all the boxes with the red lids...hold chipboard.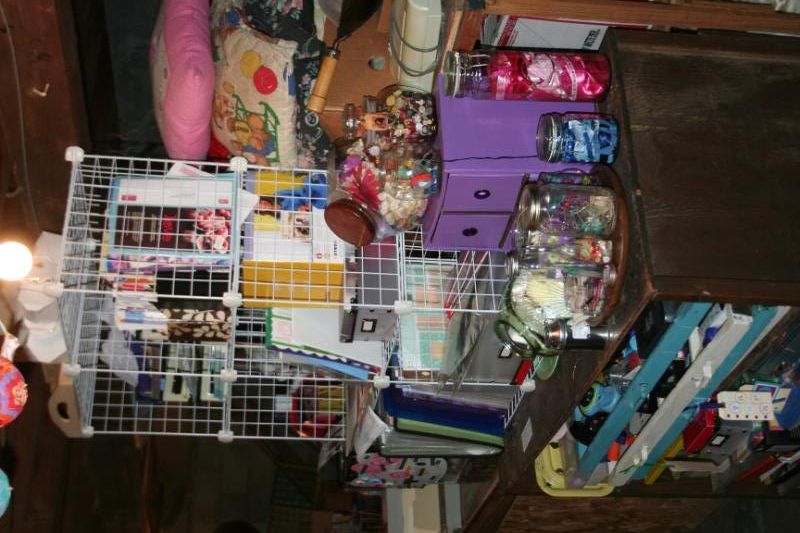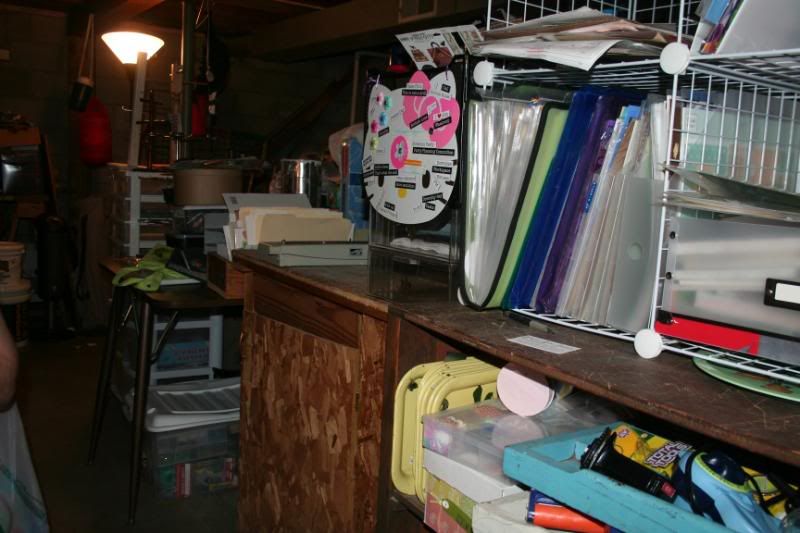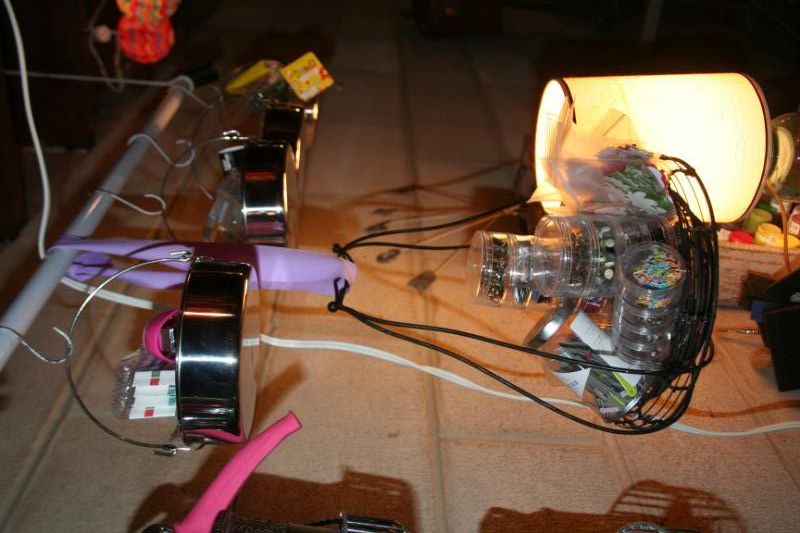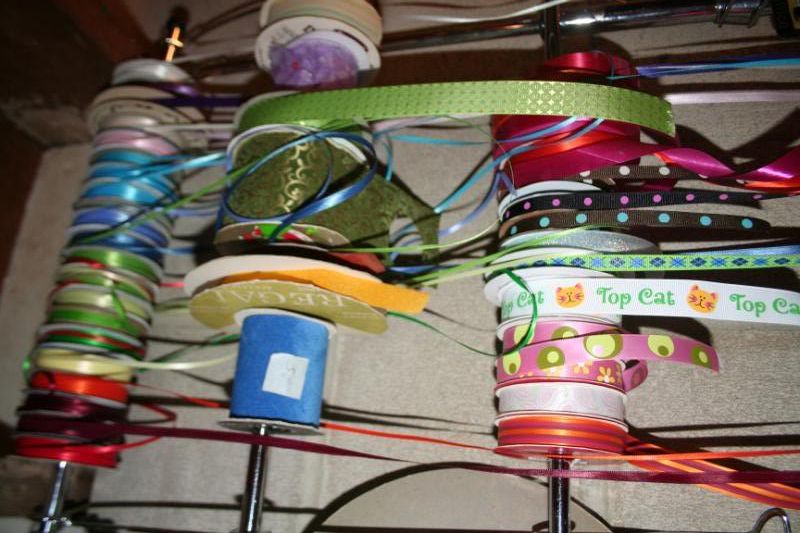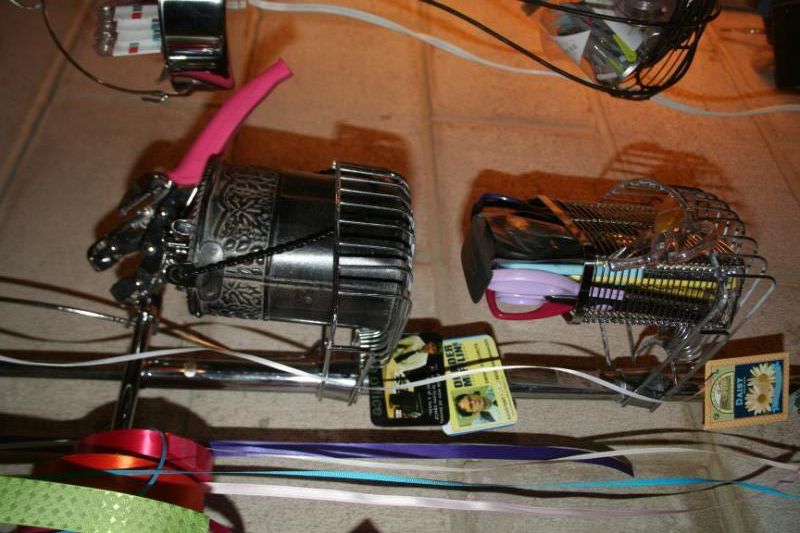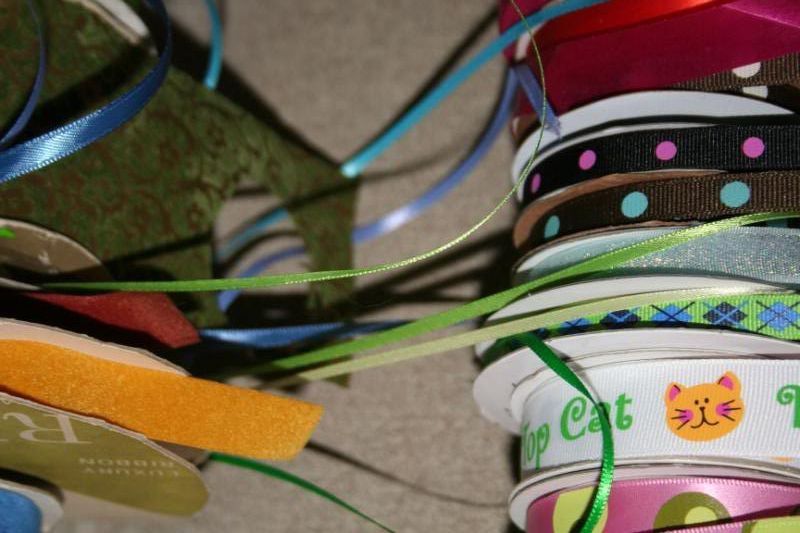 My jewelry holders for sales and then my beading stuff under the table.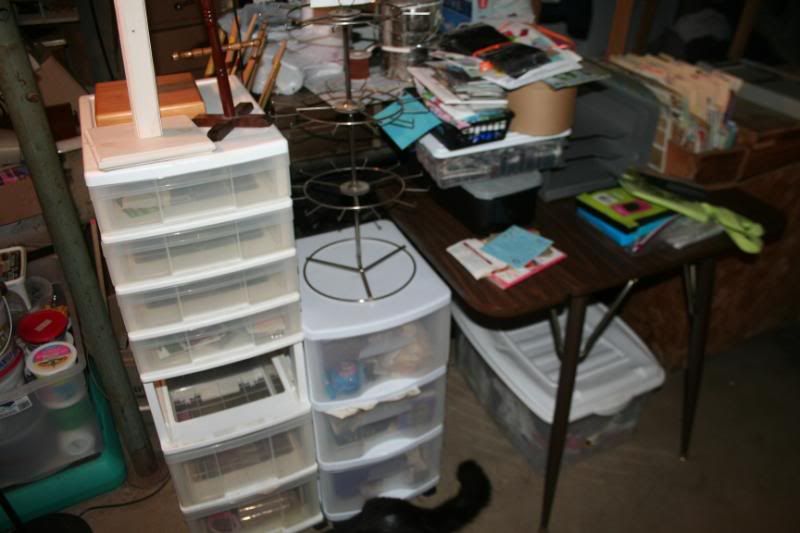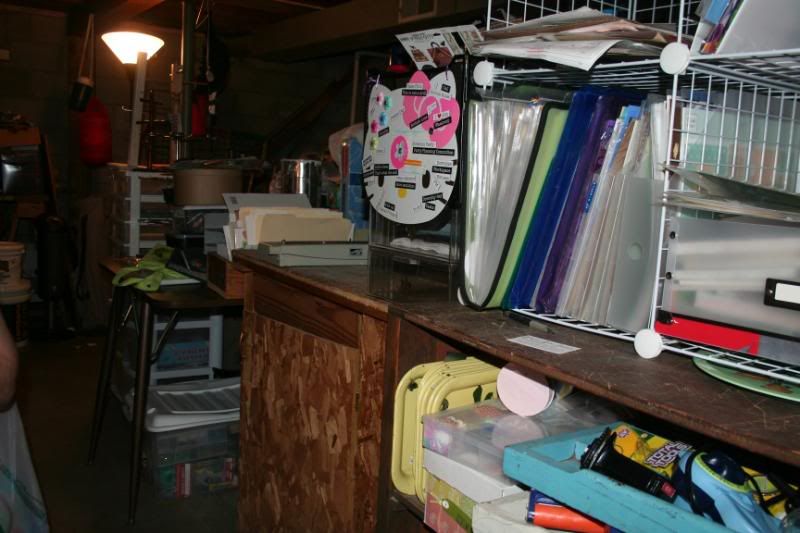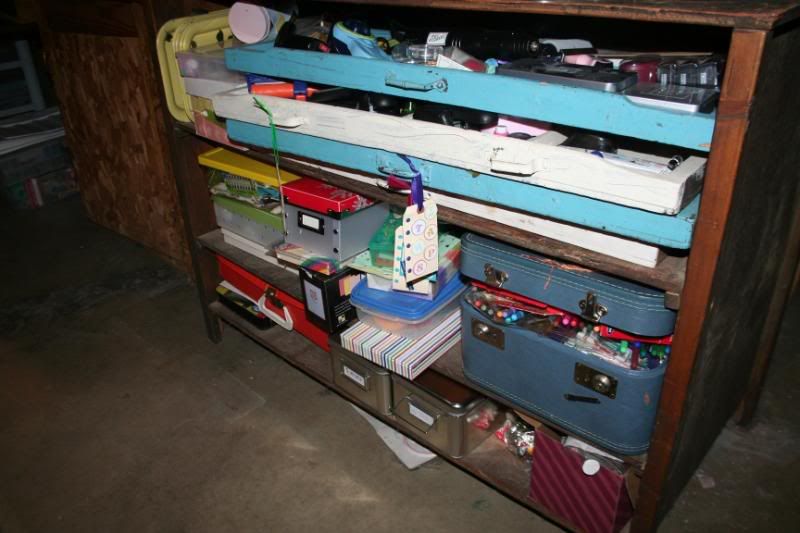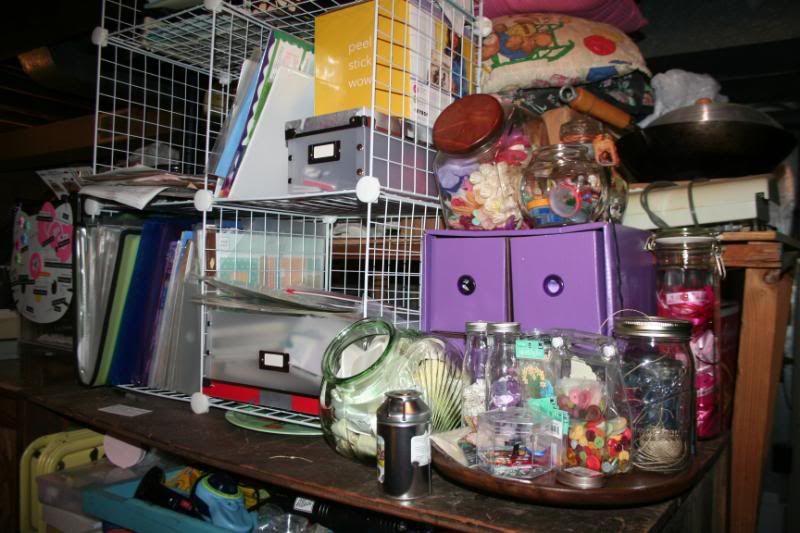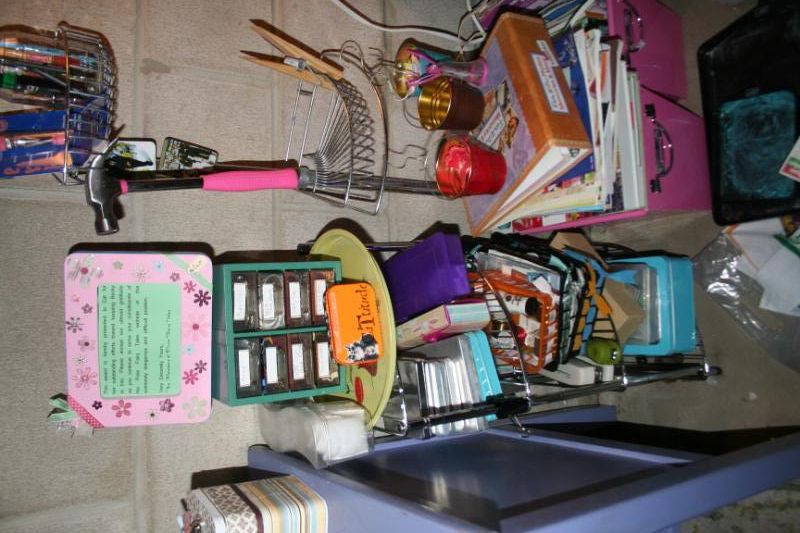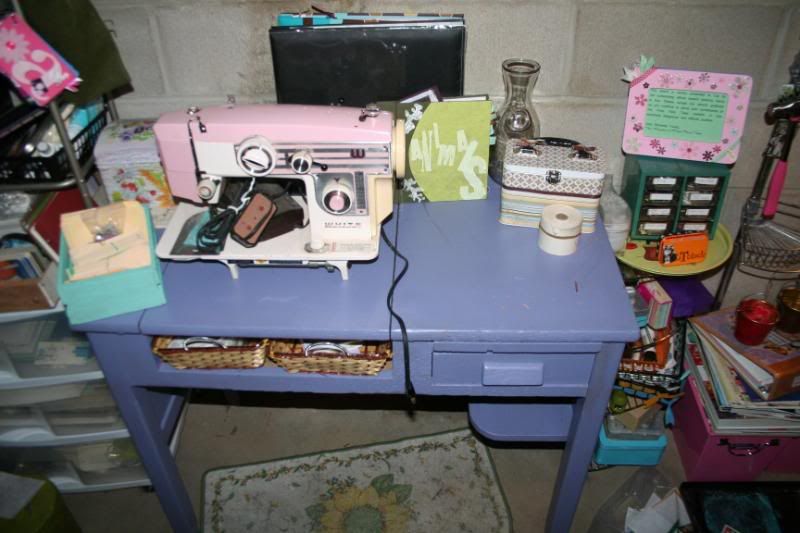 My cutting station.....and my laundry station right behind it.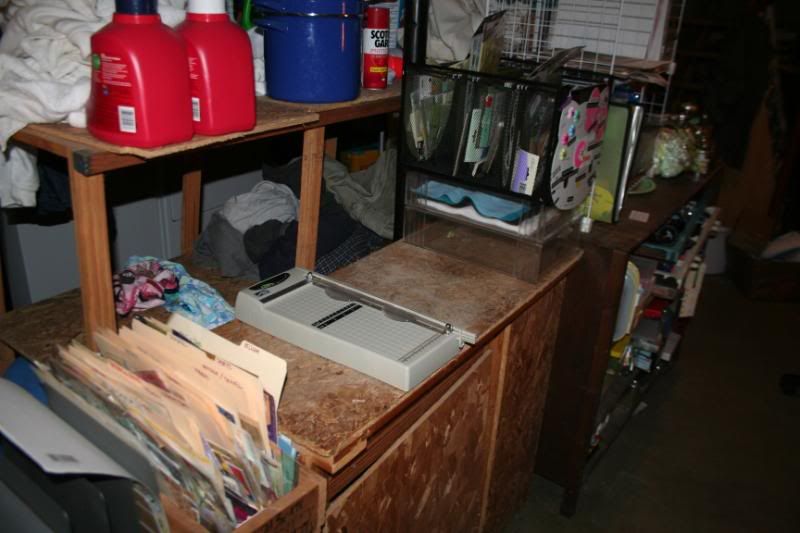 That nifty metal holder there? Yeah, just got that with a bunch of other stuff at a garage sale where you can put as much in a bag for a buck. I will put my 8 1/2 x 11 stuff in it.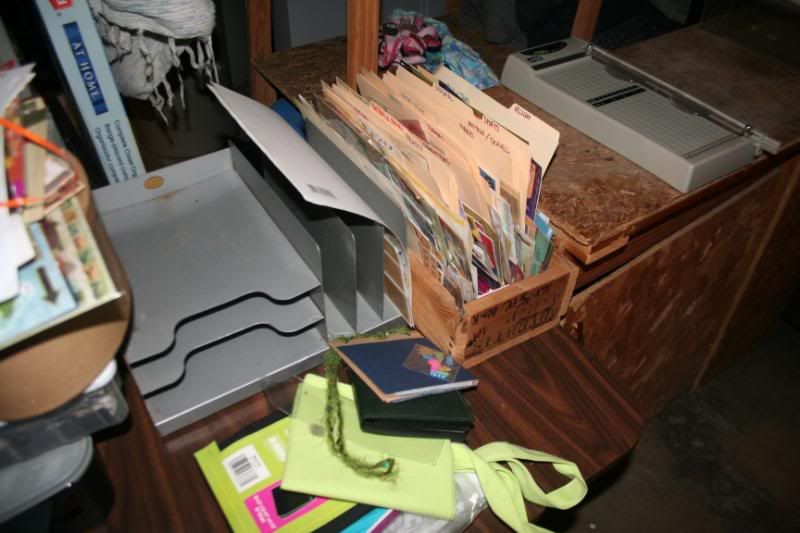 I don't think any of the pictures were duplicates, just multiple views of the same things...or after things were changed. Thank you for taking the time to look thru this!